no matter how old and normal I get, I can't seem to stop acting like a Beatlegirl around Los Bros Hernandez.



SPX 2002: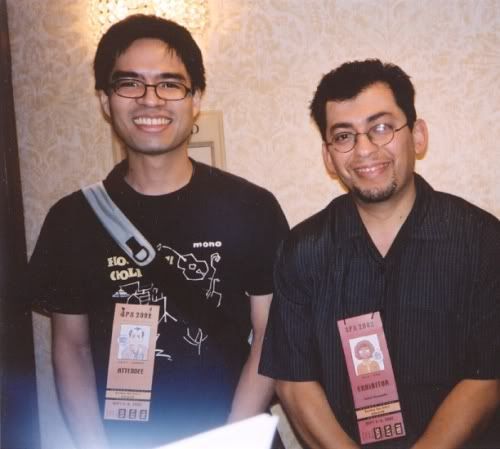 (photograph by Ivy Barkakati)
SPX 2010:

(photograph by Stacey Shelton)


Every year, Small Press Expo serves as a lesson in humility for me because although I love comix with my whole heart, I don't draw. It's like going to a place where everybody except you has superpowers. Over the last 16 years of attending this thing, I've gradually gotten more comfortable with the reality that everybody's just a human being, after all; and I've had good, normal conversations with many cartoonists whose work I admire. For instance, I wasn't nervous meeting Harvey Pekar in 2005, and by that point he was a literal movie star. For whatever reason, though, Gilbert and Jaime remain godlike and remote and rock-star-ish in my mind; and every time I have met them (Xaime this year, Beto in '07, both in '02) has resulted in my utterly losing my cool, tripping over easy words, throwing sweat like a 'toon. On Saturday, my wife noticed my hands shaking right before I asked Jaime the following Q during a Q&A panel:

"What do you suppose makes Maggie attractive? -- because she's such a beloved character, but in the general culture fat chicks are frowned upon. There's no Maggie in the movies. I mean, you got one-shot deals like Ricki Lake or whoever that people care about for a moment, whereas now we've been following Maggie for a couple decades ...!"

"Well," said Jaime, "I've proven that people can be interested in a character who's metaphorically and literally well-rounded. Blame Hollywood. They care about one thing: dollahz."

One reason comix are loveable, I reckon, is that there are almost no dollars in it, relative to other arts and entertainments; so everyone who does it does it out of love. If your love takes the form of a chubby ex-punk-rocker with a bum ankle, a sad/michievous/beatific face, and a head full of thoughts, nobody can tell you different.

Other highlights of SPX:


Two of my all-time favourites won Ignatz Awards -- Eddie Campbell for Outstanding Artist, and Kevin Huizenga for Outstanding Series.


A very exciting book by Adam Hines called Duncan the Wonder Dog: Show One debuted and is currently teaching this old dog new tricks. After reading the first 20 pages or so, I told Hines, "A lot of people are using the computer for evil, but you're using it for good!"


Scored $50 worth of wild and underappreciated 1980s superhero comix from Frank Santoro's longbox -- including all three issues of Brendan McCarthy's Strange Days -- that I plan to visually devour and perhaps read.

How was yours?